The town is TayTay (Palawan, Philippines).  The three days I spent there were great fodder for my camera.  I got up bright and early (pre-dawn) to see what I could capture from the squatter neighborhood just down the way from my hotel.  The light was barely hitting the front of some of the makeshift homes when I spotted a little girl holding a long pole across the inlet.  The poles are used to push one's boat through the traffic jam of boats parked below everyone's stilted homes, she was using it to poke crabs and other things in the water below her.  Her expression never changed.  She did not wear the smile of a child playing but more an expressionless distant star out past me to the ocean in the distance. I was shooting from so far away she did not see me as I took photos from behind an old rotting fishing skiff.
The original image (see below) does not have the graffiti that you see in this final art piece.  However those were shot just a minute's walk from her.  So too were much of the textures used to create the final look, photographed off dilapidated old building walls in the area.
I really liked this this town and I'm sure I will return on my next visit to Palawan.
---
View the photo with dynamic sizing here:http://genetewksbury.com/albums/distressed-art/content/untitled-420/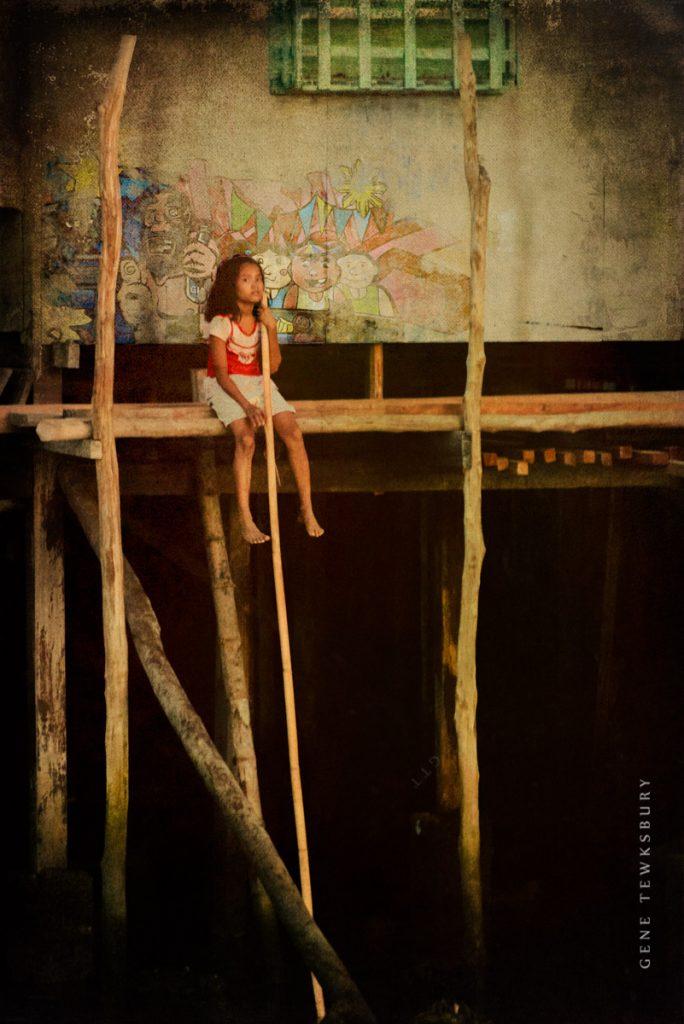 The original Photograph: