"Hey Gene, what's your Instagram address?" 
"Sorry, my friend but I don't post on Instagram." 
"What? But you are a photographer right?"
Do you have that conversation?  Maybe not, seems like everyone and their brother is on Instagram and has been for a while.  But much to the dismay of many, I have not been.  Why?  Because I don't shoot with a phone, I shoot with cameras and Instagram has been less than helpful to those of us who want/need to shoot with real cameras, do proper post work on the computer and then wish to post our photos.  It has been possible through 3rd party apps like Bluestacks and others who emulate android on your desktop, but those are quirky, have limited functionality, are unreliable and still very time consuming.  Other options include emailing images to yourself then using your phone, and more.  But they all take excessive amounts of time and do not in any way mesh with the workflow I have for all my other image sharing options (Facebook, website portfolios, Twitter, blah blah blah).
Alas! the solution has arrived.  Apparently it arrived several months ago but for whatever reason this has not hit the mainstream channels of information for photographers.  At least those that I keep up with.
You are now able to upload your images directly off your desktop via your normal web browser.  It seems that Instagram has launched a web app that allows you to use a fully functional Instagram account simply by changing the viewing mode of your web browser from web to mobile.   I gave it a try today and it couldn't be easier or more straight forward.  I truly cannot imagine why it would take them this long to make it happen, but now that it has I can actually start sharing my images on Instagram like everyone else.  Is this a good thing?  Hmmmmm  that's a question for another post.  Maybe I'll revisit this topic in a few months and let you know.
Now that I have one with images being posted, please follow me here:  Gene Tewksbury's Instagram Feed
If you think others will benefit from this please share this article.
---
How to upload photos to Instagram from a desktop browser
Most browsers have a way of letting you change the "User Agent".  This basically tells the browser to view websites as if you are on a different type of device (like a phone or tablet).
Safari
Go to Safari > Preferences > Advanced.
Check the box at the very bottom that says, "Show Develop menu in menu bar."
Now open a private browsing window. Head to Develop > User Agent > Safari — iOS 10 — iPhone.
Go to Instagram.com, sign in and click the camera button at the bottom of the screen to upload a photo from your desktop.
You may have to refresh your screen to see the buttons in your account.
Chrome
go to Instagram.com and sign in.
Now right-click the page > Inspect > click the Tablet icon (top-left of the "inspection pallet" – looks like two different sized rectangles).
The page should switch to mobile view, where you'll find a camera button at the bottom of the screen, which lets you upload a photo from your desktop.
You may have to refresh your screen to see the buttons in your account.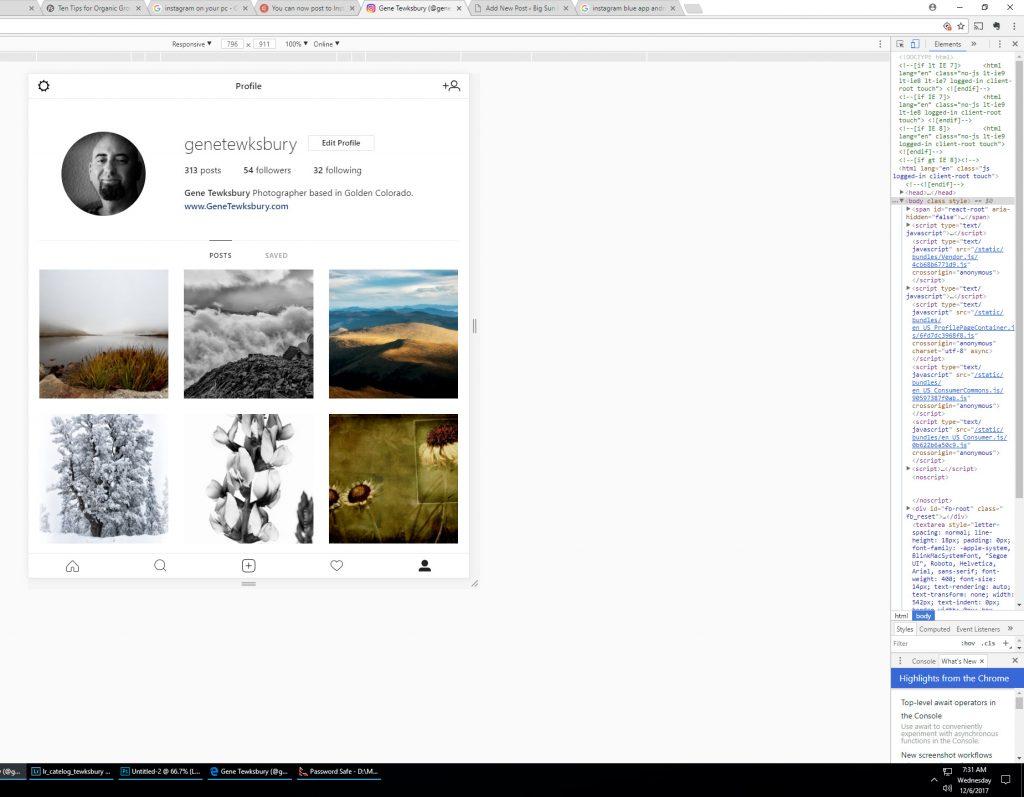 Explorer
In Explorer go to "settings" via the "…" icon (upper right)
Select "developer tools" (or F12).
The tools should show on the bottom of your screen.  Then select "emulation".
From there choose a phone to emulate.  I found that I was having issues with some of the options, but the Nokia Lumina 650 seem to work fine.  This may be different for different computers or browser versions, I really don't know, so I just play around with the options till you get one that works.
From my brief experience with both Chrome and Explorer it seemed Chrome was far easier and consistent.  So I would say go that route.
You may have to refresh your screen to see the buttons in your account.